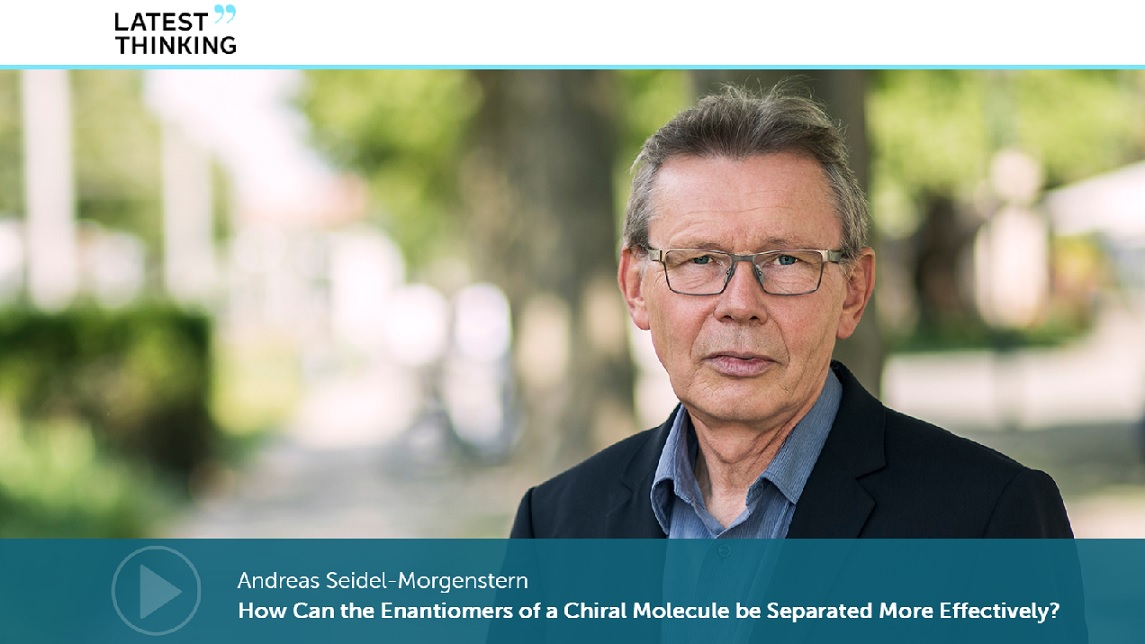 Chiral molecules are molecules that behave as image and mirror image to each other; these are also called enantiomers. There is a demand in pure enantiomers, which can be created for the use of a variety of industries, such as drugs for the pharmaceutical industry or herbicides for agrochemistry. ANDREAS SEIDEL-MORGENSTERN and his research team investigate access to these pure enantiomers. To achieve this, they work on separating the two enantiomers, complementing alternative approaches devoted to synthesize just one of them. For this, they use racemic mixtures – which contain equal amounts of left- and right-handed enantiomers of a chiral molecule – and then split these racemates. The separation process they managed to develop for this, as is described in this video, allows them to produce larger quantities of pure enantiomers from cheap available mixtures than was possible before. This means that these can now also be produced more effectively in industrial contexts.
LT Video Publication DOI: https://doi.org/10.21036/LTPUB10483

Continuous Preferential Crystallization of Chiral Molecules in Single and Coupled Mixed-Suspension Mixed-Product-Removal Crystallizers
Kamila Galan, Matthias J Eicke, Martin P Elsner, Heike Lorenz and Andreas Seidel-Morgenstern, Crystal Growth & Design
Published in 2015
The
University of Strathclyde
's
CMAC
/ CORE Innovative Training Network Crystal Builders team exhibited this year
Explorathon - Researchers' Night Scotland
at the
Riverside Museum
on Friday 29 September. Over 700 people visited the stall which included building crystal models from marshmallows, explaining mirror molecules and chirality using carvone and the crystal forms of chocolate.
CORE beneficiary partner Syncom and Mercachem, two of the leading European drug discovery Contract Research Organizations (CRO), today announced that the two companies are joining forces effective immediately. The resulting Mercachem-Syncom Group, with more than 300 employees and operations in Nijmegen and Groningen, the Netherlands and Prague, Czech Republic, becomes the premier European mid-sized CRO offering innovative best-in-class chemistry solutions.
Since their inception in 1997 and 1988 respectively, Mercachem and Syncom have established themselves as two of Europe's leading drug discovery CROs with a focus on high-quality chemistry services to large and mid-size pharmaceutical, life sciences and innovative chemistry customers worldwide. Today's merger enables the Mercachem-Syncom Group to broaden its offering of integrated drug discovery services and invest into state-of-the-art knowledge base and facilities to address clients' growing demand for outsourcing solutions. The merger of Mercachem and Syncom and the Group's growth strategy with a further expansion both organically as well as through partnerships and further acquisitions is supported by Gilde Healthcare, a leading investor in healthcare together with Dutch pension fund service provider PGGM, as co-investor.

See full press release at https://syncom.nl/mercachem-and-syncom-join-forces/